If you use Tinder, you may have noticed a small blue star icon in the upper-right corner of your profile. You may be wondering what this blue star means and why it's there. In this article, we will explain what the blue star means on Tinder and how it works. 
What does the blue star mean on Tinder?
The blue star icon is used to indicate when someone has "Super Liked" you on Tinder. This feature was added to the platform in 2015 as a way for people to express their interest in another user without having to wait for that person to like them first.
The Super Like sends a notification to the other user letting them know that someone has Super Liked them, so they can take a look at that person's profile and decide whether or not they want to match with them.
It's important to note that Super Likes are limited—users can only give one per day, unless they purchase additional Super Likes. This prevents users from spamming other people with unwanted attention and allows users who genuinely like each other more of an opportunity to connect. It also encourages users to be thoughtful about who they are sending Super Likes too, making sure it's someone they would actually like to meet up with or go out on a date with.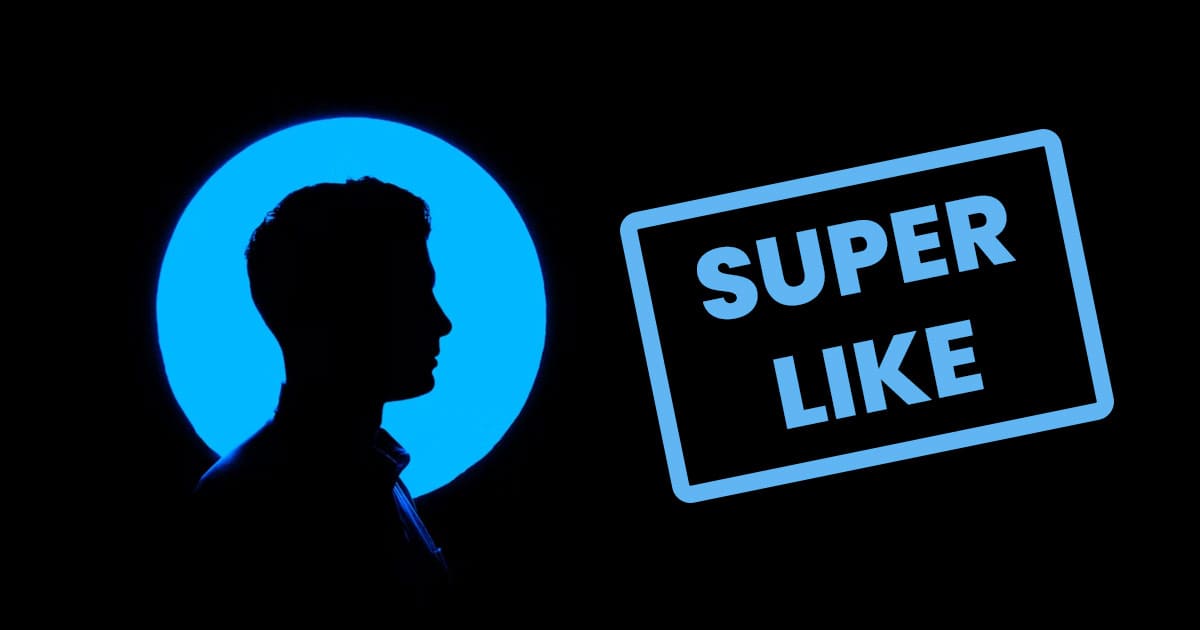 Where can I see blue stars on Tinder?
A blue star will show on Tinder when someone has Super Liked you, or when you have Super Liked someone yourself. The Super Likes can be found in a few different places on Tinder:
Tinder Match List
Head over to your list of matches. You'll see a blue star right next to the name of the people who have super liked you. Easy!
Tinder Discovery Screen
When browsing in the discovery screen, any profiles that have Super Liked you already, will be highlighted with a blue background.
Tinder Top Picks
In the top pick section of the Tinder App, you'll notice a blue star in the bottom right corner of new profiles. This will allow you to instantly Super Like someone without even having to check out their full profile first.
What is a Super Like on Tinder
Super Likes are a great way to let someone know that you're interested in them without having to wait for them to like you first. They also give users an opportunity to connect with people who they might be interested in, but would have otherwise been overlooked.
Super Likes can also encourage users to take their time and be thoughtful about who they are sending them to, as they are limited to one per day.
So if you really like someone, don't be afraid to let them know with a Super Like!
How do I send a Super Like on Tinder?
Sending someone a Super Like on Tinder is very easy. Simple hit the blue star on their profile and they will be instantly notified about it.
You can also just swipe up instead of swiping right. Give it a try 😉
Can I undo a Super Like?
Yes! If you sent someone a Super Like by accident, or you had a quick change of heart, you can simply use the yellow "Undo Last Action" button.
However, this option is only available to members with a Tinder subscription (Tinder Plus or Tinder Gold).
If you're using a free Tinder account, you will not be able to use the "Undo Last Action" feature. You'll just have to wait 24 hours for the the blue star to disappear all on it's own.
How many Super Likes do I get on Tinder?
Each Tinder account get's only 1 Super Like per day!
This means that you have to be thoughtful about who you are sending it too, as you can't just go around Super Liking everyone.
Can I buy more Super Likes?
If you're running low on Super Likes and you really like someone, you'll need to upgrade to either a Gold or Platinum subscription to do it. This will give you 5 extra Super Likes per week, every week.
How can I see if someone super liked me on Tinder?
When you receive a Super Like, you will be notified via an alert. You can find this notification in the upper-right corner of your profile. The notification will also appear on your matches page when someone has Super Liked you.
If someone has Super Liked you, their profile will appear near the top of your list when you open the app. So, if you see a blue star next to someone's name when you open the app, it means that person has already expressed interest in getting to know you better!
I was Super Liked, but when I swipe there is no match found?
If you get notified of a Super Like and then swipe right to match with that person, it's possible for that match to disappear. Sadly for you, this can mean that they either changed their mind or Super Liked you by accident.
Tinder allows you to reverse a Super Like by hitting the "undo" button.
How can I find out who Super Liked who?
Sometimes you are chatting with a match and you can't remember which one of you super liked the other. No problem! Just scroll back to top of your messages with this match, and it'll tell you who Super liked who. Simple.
Bottom Line
The blue star is a helpful feature on Tinder that allows you to let someone know that you're interested in them and can encourage a future match to take their time and be more thoughtful about your profile. It's a great way to minimize a potential lost connection due to oversight when quickly swiping.